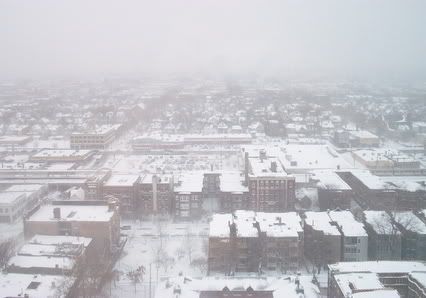 Around noon today, we were informed that the university would be closed until Thursday. 3PM was the expected time for the storm to hit, dropping an expected 24+ inches of snow on the city. Since then, I've steadily watched the snow build outside our friary window.
We got home from school as the snow began to fall. One of the other friars was already warming up the snowblower, preparing for a long day of clearning the sidewalks and parking lot. It was only a steady flow of snow, but even the news stations said the Stevenson Parkway was running 3 hours late.
I grabbed a quick picture of Bro. Jerry before he headed out for some necessities. Even around 4:30 the snow wasn't as heavy as it is now. But to prepare, Jerry was heading out in case the power went out. (Currently there is no electricy in St. Agnes Friary, the other student friary across the block.)
As the night progresses, the storm gets steadily worse. There is lightening with the blizzard, and the snow is up to the bumpers of the cars (as of 9:30 PM). After dinner we heard a car in the alley spinning its wheels. Five of us ran outside to get a minivan unstuck, pushing it all the way back to the street.
By 6PM people knew what was coming. Just going outside was a chore, and watching the vehicles slowly move by let us know how bad it was getting. This is a video taken from someone downtown. It's interesting to note that Lake Shore Drive is blocked off because the 12-16 foot waves go over the barrier and turn half of LSD into a sheet of ice.
But I'm still here, the lights are still on, and I'm still arranging the furniture in my new room here at the friary. There's talk of building a snowfort and doing all the things we used to do when we had "snow days" as kids. In the end, we may just spend a lot of time trying to dig ourselves out of the friary and make sure that no one else is trapped or without necessities.
Stay safe and warm, everyone!
Prayers of safety and thanks to the Chicago photographers braving the weather to capture the amazing images of this event. www.flickr.com